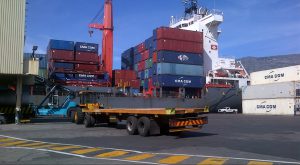 Road Transport Supervision
The safe handling of freight is dependant upon the applicable people complying with the relevant procedures and applying the necessary skills to their handling. This Qualification, therefore, is aimed at providing learners in the Freight sector with:
An integrated practical and theoretical grounding in Freight Handling.
The ability to work more effectively with others.
The skills necessary to maintain and enhance the level of service and quality of service expected by customers.
An awareness and understanding of key business principles that lead to transformation, transferability, economic growth and social development in the freight handling industry.

The key areas of specialisation identified within the Freight Handling Industry are as follows:

Warehousing and Distribution.
Port Operations.
Stevedoring.
Courier Operations.
Bulk Handling.
Airfreight.
Forwarding and Clearing.

Learners completing this Qualification, in whatever area of specialization selected, will be able to demonstrate the ability to consider a range of options related to their chosen field in order to make decisions and improve performance around, inter alia, freight handling administration, planning; goods handling, storage, transport planning, and basic freight handling equipment maintenance.